Vascular Lab in Orange County
The Vascular & Endovascular Institute of Orange County's Noninvasive Vascular Laboratory performs a variety of ultrasound imaging tests for evaluation of vascular disorders. These tests are used to diagnose vascular problems such as blockages and aneurysms. Dr. Nishanian also utilizies them to measure the patients' vascular disease progression or improvement in follow up.
One of VEIOC's highly trained technologist will use advanced vascular ultrasound equipment to study the blood vessels in question and assist Dr. Gary Nishanian in the diagnosis of circulatory problems. These tests are not painful, do not involve needles or injections, usually cause no discomfort, and have no known side effects. The studies are important for the monitoring of treatment outcomes after vascular surgery and endovascular therapy (angioplasty and stenting). Your physician or a vascular specialist can request these examinations. Your visit with Dr. Nishanian will sometimes coincide with tests in the Vascular Laboratory.
The VEIOC offers patients a convenient and professional alternative to the congested hospital setting. We aim to make your visit pleasant and comfortable at both our Orange County office locations. The following Vascular Ultrasound and Physiologic Testing studies are performed on a regular basis, with additional specialized testing available upon request:
This is a diagnostic procedure utilized to detect blockages in the carotid arteries. These blood vessels run through the neck and send blood to the brain. Blood clots and narrowed arteries are some of the conditions that can be diagnosed. This test is useful for studying patients who are at a risk of stroke, recently had a ministroke or a stroke, or are experiencing certain types of dizziness and syncope.
An aortic ultrasound is an imaging exam performed to detect problems within the aorta, the largest blood vessel in the body, including an aneurysm, atherosclerosis and blood flow blockages. Certain patients who have undergone aortic endografting and aortic bypass may also benefit from monitoring by aortic duplex. The early diagnosis and proper treatment of aortic aneurysms helps decrease the risk of aneurysm-related rupture and death. Contact Dr. Nishanian's office for an appointment.
This type of ultrasound exam is performed to visualize blood flow within the lower extremity arteries and look for blockages and aneurysms. Bypass grafts and stents can also be monitored using this test. Exercise Arterial Testing for Claudication: Patients with peripheral artery disease sometimes experience leg pain when they walk. This test is the procedure used to determine if the leg symptoms are due to vascular disease, or to other sources.


An Arterial Doppler is often performed to evaluate blood flow in patients complaining of leg or arm pain, numbness, tingling and fatigue, and those who have open wounds. These symptoms may be indicative of a blockage in the extremity arteries. Performed with digital pressure determination, Dr. Nishanian can detect the presence of, diagnose and localize the severity of peripheral artery occlusive disease, and help determine healing ability for extremity and foot surgery.
This ultrasound exam can visualize the speed and pattern of blood flow through the aorta, the intestinal and the kidney arteries. Your doctor may perform this test in order to detect blockages within these blood vessels and any kidney damage that may have occurred as a result.
Dr. Nishanian at both his Orange County office locations diagnoses and treats vascular access problems using this ultrasound test to evaluate dialysis fistulas for problems with narrowing, flow and to determine reasons for their failure to mature for hemodialysis.
Prior to an operation, vascular surgeons utilize an ultrasound test to determine which vein segments are usable for bypass grafts and dialysis fistulas.
This test examines blood flow through veins of the extremities. Your doctor may order a venous ultrasound to detect deep vein thrombosis (DVT) or superficial vein thrombosis (SVT) - blood clots in various locations in the venous system. Deep venous thrombosis has significant associated risks if not treated early, and can result in venous thromboembolism or lead to chronic venous insufficiency.
: This ultrasound exam helps Dr. Nishanian a vascular specialist evaluate patients' veins for sources of varicose veins and venous insufficiency. It also helps guide the treatment for these conditions.
---
Diabetic Foot Problems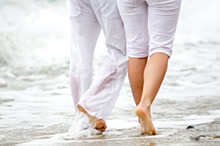 People with diabetes are at high risk for developing problems with their feet due to increased rates of nerve and blood vessel damage as well as poor healing ability.
Once diabetic foot complications such as a wound, infection or ulceration are detected, they should be treated immediately in order to prevent limb loss and amputation. A Vascular evaluation by Dr. Nishanian is an important part of diabetic foot care. This can help restore proper circulation in addition to creating a clean wound environment, while relieving undue skin pressure promotes better healing and wound closure. Patients with inadequate circulation detected by lack of pulsation in the arteries of the feet and abnormal arterial testing benefit from revascularization and may require surgical (bypass) and endovascular (angioplasty/stent) procedures. Because the diabetic patients have multiple factors preventing them from healing, Dr. Nishanian prefers treatment by a multidisciplinary team of vascular, wound, foot, orthopedic, diabetes, infectious disease and nutritional specialists.
Dr. Nishanian a Diabetic Foot Specialist in Orange County feels the best strategy for caring for diabetic foot problems is wound prevention and early treatment of problems before they become open wounds. To prevent wounds from developing, patients with diabetes should inspect their feet daily, avoid walking barefoot, wear clean, soft non-constricting socks and appropriate diabetic shoes, regularly see their foot specialist for diabetic foot care, and keep their blood sugar levels under control.
» Contact The Vascular & Endovascular Institute of Orange County for more information about your Diabetic Foot Problems.